The Apple Watch Ultra is the best smartwatch to come out of Cupertino. But let's answer the $800 question here: is it worth it for non-fitness fanatics?
The Ultra is extra chunky — with a chunky price tag to boot. It sports an ultra-durable, titanium design and a huge battery to keep elite athletes happy. Its dual-band GPS means marathon runners can get a super accurate visual of their route. Plus, it has a built-in siren that alerts passers by to your location while you're on a remote hike. Oh, and an EN13319 certification means you can use the Ultra as a reliable diving computer.
These features don't benefit me as a casual gym-goer. And chances are, dear reader, that they're not advantageous to you either. We're what I will call "normies." We have a fickle relationship with fitness, so I look at this watch with a strong "What's the point?" vibe.
Allow me to dive into answering two key questions: Can you tailor its niche features to more standard uses, and is it worth the additional investment?
Apple Watch Ultra availability and price
Whereas the Apple Watch Series 8 comes in a ton of different options, the Ultra just has one: a 49mm chonky boi for $799. You can select your desired watch band, too, whether it's a hiking-centric Alpine Loop, runner-friendly Trail Loop or a diving-focussed Ocean Band.
This, of course, puts it far above the pricing of a lot of the more typical smartwatches people shop for. So, to be worth this additional cost, it's got to be something special, so let's unpack that.
Apple Watch Ultra design
There's no two ways about this: the Apple Watch Ultra is large and in charge. Small wrists, beware!
I do adore the new utilitarian look and feel of it, far more than the very familiar bubbly design of the standard Apple Watch lineage. Every part of it feels intentful and durable, from the flat display covered with sapphire crystal to the rock-hard titanium shell that has impressively fended off scratches and dings from my clumsy behavior.
The athlete-focussed bands are also impressive too, with the Trial Loop offering a lovely fabric finish for long wearing sessions and the Ocean Band maintaining top-notch comfort while providing confidence in the watch's 100-meter water resistance. But I hope Apple looks to provide something a little classier for everyday casual wear. Don't get me wrong; I bought a matching titanium-colored strap from Amazon (opens in new tab) that does the trick. But the company's missing an unostentatious design for date nights and other low-key, prosaic events.
Plus, the addition of that action button is an absolute godsend when it comes to improving usability. So far, I've used it for a variety of options — be it starting an indoor run, opening my most recent podcast, or using a shortcut to activate a few smart home elements around me. It's really cool!
But then, we come to a little bit of a problem: it's absolutely massive. Not just from the perspective of it being an atypical shape that doesn't contour to your wrist like a typical watch, but that it is a bit of a brute at 1.9 x 1.7 x 0.6 inches with a weight of 2.2 ounces.
For comparison, the 41mm model measures in at 1.6 x 1.5 x 0.4 inches, whereas the 45mm sports the same thickness, but sees its other dimensions increase to 1.8 x 1.5 inches, with a weight of up to 1.5 ounces. For pure comedy's sake, I did get my smaller friend to try it on, and it looked like a mix of a Star Trek communicator and a tracking device one would wear on day release.
It's definitely not one for smaller wrists, and I hope Apple addresses this imbalance with a smaller-framed model in its next-generation lineup.
Apple Watch Ultra display
The Ultra sports the same display tech as the Series 8: an always-on Retina LTPO OLED display. But Apple has turned it up to 11 in three ways: a slightly larger size (1.92 inches over 1.9 inches), a sharper resolution (502 x 410 pixels for a 338 ppi density over 326 ppi), and a higher 2,000-nit peak brightness.
Colors are nice and vivid, thanks to the OLED technology that really makes watch faces and complications pop. Touchscreen responsiveness is super sensitive, but not so much so that you accidentally whiz by your targeted selections.
And yes, you can make the most of always-on technology and get a comfortable day's usage. But as I said in the Series 8 review, you don't really need a watch face showing constantly, and no matter what Apple does to reduce battery drain, I will always prefer more longevity over this.
Apple Watch Ultra fitness tracking
I am more of a casual when it comes to fitness. More recently, I've managed to exercise two to three times a week and watch what I eat, which isn't necessarily making the most of the pro athlete credentials. So, to highlight what I did and did not do:
I went swimming, but skipped scuba diving.
I went for a couple day walks, but no multi-day hikes in areas with no cell service.
I did some 5Ks, but no ultra marathons.
Got it? Good. That means we can go into what I think is an essential purchase alongside your Apple Watch Ultra: Apple Fitness+. This was going to be a separate article (maybe it still will be — tweet me if you want a review of this service). But I feel I can sum it up here too.
If you have a problem with discipline like I do sometimes, this is an awesome service for kickstarting your fitness journey. I could ramble on about the various workouts you can turn on in the free version of the workout app, but none of these come with the motivation of a trainer. Plus, beyond your array of HIIT, strength, core and cardiovascular fitness classes, you've got a variety of other content that really cuts to the core (pardon the pun) of a happier, healthier lifestyle.
For example, I can't get enough guided walks and sleep meditations. I normally have podcasts on tap for both of these (one significantly quieter and more boring than the other, but that's par for the course of a good night's sleep). But having a variety of options that are ever expanding, such as a walk with Jason Segel or additional meditations to focus on resting your heart rate and breathing, makes this an all-in-one useful tool.
Plus, once you've got yourself a good routine and the motivation is there, you may not need to continue your Apple Fitness+ subscription. That is the beauty of it in my opinion, as it is based purely on the content offering, rather than trying to lock you down to any long-term commitment.
Going into more general stuff, watchOS 9's free workout app received a dramatic makeover that simplified the user journey. For example, you can now see your rings fill up as you workout instead of needing to revisit the home screen to check your progress.
Beyond that, all of the other stuff exercisers have been loving is all here, from more in depth metrics like heart rate zones, power and elevation (even running stride length and vertical oscillation for improving efficiency) to creating your own custom workouts.
And while I already thought the Series 8 was pretty accurate in run tracking, the Ultra blows it out of the water with its dual-band GPS. Distance was perfectly matched to the route, and the mix of the on-wrist haptic feedback and AirPods declaring your distance and time intervals keeps you up-to-date.
Apple Watch Ultra health tracking
Health tracking is another important element of the Apple Watch lineage and the Ultra continues this with everything you expect and more. Of course, there are heart rate, blood-oxygen and ECG tracking apps, alongside the great mindfulness app that helped me out during my more anxious days. But there are some new features that came with the dawn of watchOS 9.
First, there are two temperature sensors: one that is on the bottom of the watch against your wrist and the other that sits just beneath the display measuring external temperature (and the water temperature if you're diving). Beyond scuba, these inform two important new features in the form of sleep tracking and cycle tracking.
Sleep measurement has been there before, but in a far more rudimentary sense than what you have now. With this revamp, you can now track your sleep stages, and the sensors analyze your body temperature during sleep and whether there are any external temperature-based reasons for awakening in the middle of the night.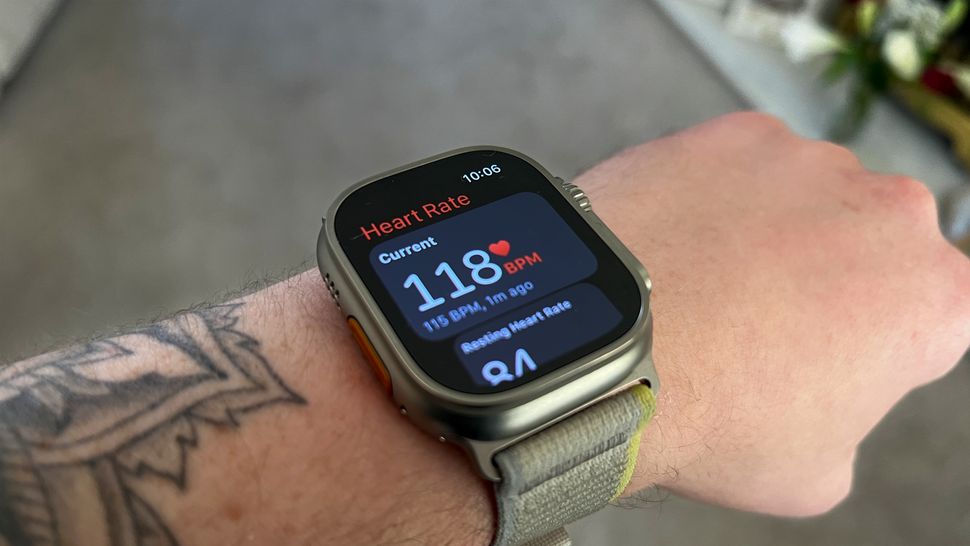 Cycle tracking takes a combination of your wrist temperature (a pretty accurate indicator) and other menstruation-tracking information to predict ovulation and give you a nudge when would be the best time to do the business if you are trying to conceive.
Admittedly, this is something I cannot test, and a quick heads up, it takes a month of data tracking for this feature to properly work. But from speaking to my friends and colleagues who are either trying to conceive or have the Series 8 or Ultra themselves, this has been a game changer. For anyone worried about security, all of this data is end-to-end encrypted on the hardware itself.
Finally, let's talk about a feature you hopefully never have to use: crash detection. Using a combination of the three-axis gyroscope, G-force accelerometer, microphone, barometer, GPS, and a sensor-fusion algorithm trained with over a million hours of crash data, your Apple Watch can detect if you've been in an accident and call emergency-service providers.
Of course, I'm not willing to test this, and there have been some teething issues early on (shout-out to anyone calling emergency services on roller coasters). But Apple has been squashing many of these issues with quick software updates, and it's certainly one of those nice-to-have features that could save a life at some point.
Apple Watch Ultra features
We're talking about the cream of the crop in the Apple Watch lineup here, so of course, it's got the on-board technology and build quality to match its lofty goals. Beyond the WR100 water resistance I mentioned above, you've got 40-meter diving and swim proofing, a MIL-STD 810H-certified durable body, IP6X dust resistance, accelerometer, gyroscope, magnetometer, optical heart rate sensor, barometer, temperature sensors and an always-on altimeter.
But of course, the features here are not about the hardware — it's what the software achieves. Thanks to the tight integration with the app store on your phone, this thing does a lot of stuff!
Beyond the core features that watchOS 9 implements, such as reminders to take your medication, the updated calendar app and the slew of features you've become accustomed to, such as notifications, making calls and listening to music/podcasts from your watch, the combination of first-party and third-party app integrations really flesh out the experience.
Oh, and there's a built-in siren for alerting people to your presence if you need help in a remote area. I tested it in the comfort of my own home and had several neighbors up to eight houses away rush to make sure I was OK. What I'm trying to say is it's loud. Like, really loud.
Apple Watch Ultra battery life & charging
For the average Joe or Jane, the biggest beneficial talking point of the Apple Watch Ultra is almost certainly going to be the battery life. That 542 mAh battery is significantly larger than the 308 mAh cell you'll find in the Series 8, which results in what I'd like to call a worry-free battery life.
I say this knowing full well that other smartwatches have far better stamina, such as the Huawei Watch GT 3 Pro and its 14-day longevity. But this is the first Apple Watch where you won't be feeling the fear and constantly checking the battery percentage. You can be confident that the Ultra will hang with your day-do-day for up to four days.
It's weird, though, because while Apple's 18-hour claim for the Series 8 was pretty much bang on, the company seems to be being more reserved about this bigger option. Thirty-six hours isn't anything to balk at, but in reality, I was making it through three days of regular use (including two trips to the gym) on one charge. Turn on low-power mode and you get an extra day and a half.
And that is what I mean by worry-free battery. You don't get that anxiety in the back of your head about whether you need to give it a boost before leaving. In the situations you do, though, the USB-C charger has a fabric cable that feels amazing, and fast-charge support means you're up and running again in an hour.
Bottom Line
So, we already know that the Apple Watch Ultra is the best smartwatch to come out of Cupertino, and the longer I spent with it, the more I realized it may be a suitable option for everyone — not just fitness fanatics.
The bold, utilitarian design exudes a premium aesthetic, the updates to internals and software makes this a thoroughly reliable watch in any situation, and the sheer longevity elevates this to a whole new level of awesome.
Sure, most of you will be just fine with the Series 8 or SE 2. Both of these give you all the features any normal person would ever need. Plus, they won't look silly on smaller wrists either. But if the idea of worry-free battery life, an additional customizable button, and a larger display tempts you, and you've got the extra cash to splurge, then there's nothing better.